A really funny story: my cousin Kevin introduced me to his pal Michael Gorrie. They were old HIBS buddies. Mike picked us up in Khobar and took us across to Bahrain.
Now this guy didn't have to do it. He didn't know us from Adam. We were in Jubail.
He had already done a MASSIVE favour for me. He catered the dinner for Meg's husband Lyle. At the time I had no idea of the politics, nor the money it cost.
He said "How much would you like to spend per person?" I said Oh 40 RIYAL each. That's $13.94 CDN. What a dunce I was! I was thinking it was $40 CDN. So dumb.
Anyway Mike did it for us. He put on this fabulous, I mean fabulous dinner in Jubail.It was all laid out at the swimming pool, the one closet to the gate:the pool they called "the singles pool". No kids were supposed to swim in it. It looked so impressive for Jubail!
Now a lot of people on the compound didn't want to come. I had no idea of the politics surrounding Lyle's firing. I still don't really understand it and likely never will. 'Tis true,Lyle kept neglecting his supervisory duties as a Principal. He never supervised the "teaching evaluations", though he had made countless promises to do so.Meg was sent, in exile, to Jubail to finish her teaching. She was never allowed back to Khobar. Norma, the Superintendent, held quite a grudge. It was not my relationship to figure out so I just let it be. I also vividly remember meeting Deb Dodd for the first time. I was chatting to Meg and chatting to Deb at the same time, somewhere, maybe in Bangkok at the NESA conference,  but you could cut the tension with a razor. It was proof to me that people really do radiate "vibes" toward other people.The negative, nervous energy was so apparent, precisely because I didn't really know either of them.Both ladies are lovely. They both stay with difficult men. They are both fighters, and both beautiful ladies.
Then there were the allegations of his perverted behaviour. Well, in light of his son's recent problems, I guess there must be a link somewhere.It's too awful to talk about so I won't. I feel very badly for his Mom Meg, a very decent and kind woman who has had to suffer so much.
Anyway, naive me: we put on this wonderful farewell party for Lyle. It was great thanks to Mike Gorrie! I am always so humbled by the sheer kindness of other people.
So back to Mike. He picked us up at the Dharhan Mall.He took us to his home. We stay the weekend. His wife didn't know us and must have thought "Who are these strange Canadians suddenly staying in my house?"  Sheila was very kind.
We went to a Thai restaurant in Adilya called Monsoon.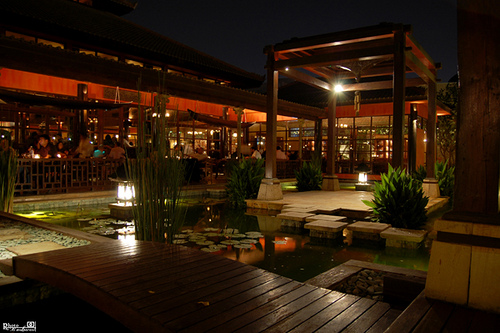 I remember walking around here thinking, "How lucky are we to be taken here?"
The other guest was big Mike Harvey who has since lost a lot of weight. Wish I could.
The next night we went to Ric's Country Kitchen.
By day it was the "biscuits and gravy ", down home place to get American food.By night it was "Ric's Den of Inequity". I guess the funniest night was the first night.We arrived with Sheila, Mike, Linda and Graham, and probably other people. They were pleased with my karaoke version of Valerie and Mike got up to sing his party piece "Sweet Caroline". Now picture the 5th fleet of Bahrain- a room full of wild American sailors.
I didn't know, but when you sang "Good times never felt so good, Americans will chime in with "So good, so good, so good!" The American sailors were in full voice. The Chinese prostitutes with their huge moon faces were everywhere.
http://www.nationmultimedia.com/detail/national/30341795
I shouldn't laugh at this because there were many young girls forced into this lifestyle in Bahrain. In so many ways it was pure sin city.
Anyway, three Saudi guys, in full thobes, were standing there smoking, drinking and trying to sing along.They didn't know the song, the culture, nothing. They looked so awkward, so out of place.
They tried to sing along but there was no point. The whole scene was quite hilarious.
Then there was Bull S*** Bill. This guy had a  big story for everything. He couldn't help himself but lie. Sheila baited me to say "Oh I've got a home in the British Properties. "He said "Oh yes I have one too." Just silly, funny times.
Not so funny for B/S Bill though.He was driving drunk and hit some Bahraini teens. He was stuck in jail for a long, long time. I think Mike finally got him out of jail. Terrible situation.
One time we were supposed to be taking Niall out to meet the Gorries. Niall fell asleep at Soraya's house.Dave fell asleep too. I had to go out on my own. We first met at the fabulous Japanese restaurant called Bushido.I took Kirsten there on her last day in Bahrain. The driver then took us to the airport.
I mean, what a classy looking place!  Anyway we met there for dinner and then proceeded to a couple of wild places. One place I think, was some hole in the wall with animal heads , trophy heads on the wall.
https://theculturetrip.com/middle-east/bahrain/articles/the-best-non-touristy-experiences-in-bahrain/
There were drunken Saudi men there trying to chat us up. I said "There's a reason Allah told you not to drink!" His eyebrows were moving up and down in rapid succession. It was just awful!
Cafe Lilou was a big favourite for morning breakfasts. Masso, at the Palace Boutique hotel was also a favourite. When Ramadan hit, the only place to get liquor was the American Country Club. It was a very dodgy place, not good food at all. No wonder Bahrain is voted at 8th in the world's top 10 Sin Cities!
Playing music at JJ's was a huge treat. Once a month we went over there for the session.
The food was great, the drinks free, it was a grand time!
Martin is still holding the sessions. Marshall and Amy got it going. they were very kind folks. I especially remember their Welsh friend Doug. He was hilarious.
Then there was big Mike Franklin, who always closed with "Pleasant and Delightful".
That's how the sessions were closed. Some times we closed with "Will the Circle be Unbroken?" Good times in Bahrain.
We met Jim Hanlon there, a contemporary of Stan Rogers. Great musician. Had several heart attacks, but still continues to smoke and drink.
Another great musician was Steve Brundage. Smoker, drinker, looked pretty bad most days. He has had several major brushes with death, yet he lives on.The man in Black. Man, could he play!
Going back to the St Andrew's Ball I remember winning the huge basket of liquor, because I sold the most tickets!
Such despair! I could't take it back to Saudi with me so I had to give it to Soraya and Terry Kehoe. I'm sure they enjoyed it.
We'd like to go through Bahrain on our way home this year. I sure hope we do!